As promised in several of my previous articles, I'm back with the news we've all been waiting to hear. Michael Johns has just confirmed that the first single from his debut album is "Heart On My Sleeve", which will be released on March 31st, 2009. Michael says that radio play for the new single should be added the following week. His debut album is titled Hold Back My Heart and will drop on June 2, 2009.

So much has happened since the first article I wrote about Michael in July of 2008. He spent a couple of months touring with the American Idol Summer Tour, which finished its run back in Sept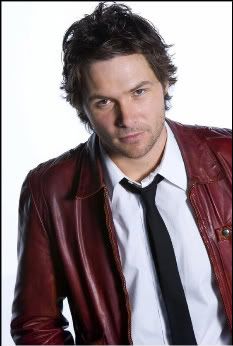 ember of 2008. His travel is as constant now, as is the demand for him to appear at venues across the nation. His popularity and the demand for his music increases with each passing day.

Most of you who have followed his journey since the tour ended, already know what he's been up to. I'll hit just a few of the highlights for those of you that might have missed some of the news. Here's a list of his top accomplishments since September 2008.

In October, he traveled back to his native Australia to perform in his hometown for Perth's Telethon. That same month, he went to the Philippines on his first solo tour playing four different venues to thousands of fans at the Ayala Malls. This is where we first heard of his future gift to charity, which I'll describe a bit more when we get to the month of December.

On November 11, 2008, David Foster & Friends DVD was released featuring Michael as he performed a two-song medley "She's A Beauty/Man In Motion". The star-studded DVD celebrates David Foster's impressive musical career with songs that span his 30+ year history as a hit songwriter/performer. Michael, along with some of the biggest names in the business performed some of those hits at the request of David Foster himself.
On December 9, 2008, Michael Johns did something unprecedented for his first post Idol song release. He gave the entire proceeds of his song "Another Christmas" away to charity. News of that gift was a featured article in BC Magazine's Holiday Special 2008 – Spirit Of The Holidays. You can read the entire story behind the song in 'American Idol Finalist Michael Johns Gives The Gift That Keeps On Giving'.

The New Year ushered in more news of special projects and collaborations. Michael Johns, with Rye Randa, and Jeff Foxworth produced and scored the soundtrack for the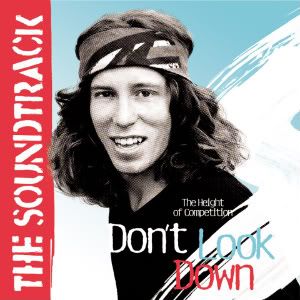 Shaun White documentary DVD - Don't Look Down- The Height Of Competition which was released on January 9, 2009.

The soundtrack was an independent project from the documentary film and was made available for digital download through Amazon.com and iTunes on January 20, 2009.
This soundtrack boasts seventeen songs and was nominated for Best Original Music Score at the 2009 X-Dance Film Festival. Sports entusiasts already know that X-Dance is the equivalent of the Sundance Film Festival, but is specifically for action sports films.

When Michael's co-writer and producer Rye Randa learned that international fans such as those who live in the Philippines and Australia weren't able to download the soundtrack from Amazon and iTunes, he made the soundtrack available for purchase through a direct link to his website www.ryemusic.com. Full details on the soundtrack can be found in the BC Magazine articles 'Interview: Rye Randa Discusses Shaun White's Don't Look Down' and in a followup piece 'Don't Look Down Soundtrack Release Date Announced'.

By February, one of the songs from the soundtrack was in such huge demand from
Michael Johns and Brooke White fans, TRP Records decided to release the duet "Life Is Okay" as a single. Michael specifically had the duet with Brooke White in mind when he wrote one of the verses to the song. Here's what he said about the song in an interview with EW.com.


Michael Johns and Brooke White
''Life Is Okay,'' Digital single release (2009)

Johns explained in a recent visit to EW.com that he was hoping to achieve a Tom Petty-Stevie Nicks vibe when he paired up with his fellow season 7 finalist for this single from the soundtrack to Don't Look Down. And while that may sound like a tall order, there's a timeless quality to the interplay of Johns' gruff delivery with White's reedy voice as they tackle the song's simple-yet-gorgeous melody. — MS

That brings us up to March, but only lists a few of the highlights from the past several months. To be quite honest, there's no way one article could fully encompass everything this artist has already done. Michael has performed the National Anthem at Wrigley's Stadium in Chicago, and again at The Pep Boys Race in Atlanta along with a concert there the same day. He also performed both the American and Australian National Anthems at America's Polo Cup in Washington.

He has walked the red carpet in NYC at the invitation of Nicole Kidman for the movie premiere of "Australia", performed at the ESPN Next Party at the Superbowl, attended the 2009 Grammy Awards, the 2009 Academy Awards, attended the opening for Disney's American Idol Experience, designed a T-Shirt for Playboy's Rock The Rabbit (a special March Music Edition), appeared on television shows like Ellen, Access Hollywood, Idol Extra and The Today Show, just to name a few. He's been such a huge part in so many charity events, there's not enough room to list them all here.

American Idol Season 8 has already had Michael Johns and Carly Smithson back to mentor its contestants during Hollywood Week Boot Camp. When there wasn't enough time in the show to include the footage, AI asked the two of them if they would appear on the show to perform the duet "The Letter" again. Although most of his fans wanted so badly for Michael to perform his new single that night instead, we were thrilled to see him grace that stage once again with his good friend Carly Smithson.

Maybe American Idol will have Michael back to perform "Heart On My Sleeve" when the timing is right. We fans can only hope so. A new idea for a TV show has been suggested, and would have several of the American Idol Alumni be brought back for another reality show called American Idol Alumni All-Stars Challenge. The idea was recently submitted as a concept for a show that would bring back the most shocking eliminations in American Idol history to compete with one another. Michael Johns was listed as one of twelve potential Alumni contestants. You can read more about that pitch for a series at Associated Content.

Michael has also launched a new way to stay in touch with his fans. Through a service called Jamship, subscribers receive recorded messages to their phone each week from Michael himself to hear what he's up to at the moment. Click on the Jamship name to go directly to his subscription service.

Fans that subscribe are raving about the personal touch a phone call adds. For up to the minute news about Michael Johns, you can follow the daily updates at Michael Johns Central. (http://michaeljohnscentral.com/). The new site is still under construction, but will have the highest quality in media, merchandise links, news, downloads, photos, tour dates, forum discussions, and videos. It's your one stop shop for everything Michael Johns.

You can read along here at BC Magazine to keep yourself informed as well. When there is breaking news of a magnitude the size of Michael Johns new single and album hitting the shelves, you can bet it'll be broadcast worldwide in BC Magazine for you.

At least the fans now know for certain that the new single "Heart On My Sleeve" is officially out on March 31st, and we can wait with unbridled anticipation for the album Hold Back My Heart to hit the shelves on June 2nd.

I'll be back to inform you of any videos, tours, and details not currently known. Or perhaps I'll have to come back and bring you what other surprises or updates we haven't yet heard about. You just never know with Michael Johns what might next be on the horizon. Stick around folks! This artist is just getting started down the path to a huge solo career, and we fans are in for a very long wonderful ride.

Until next time… Cheers and best wishes.