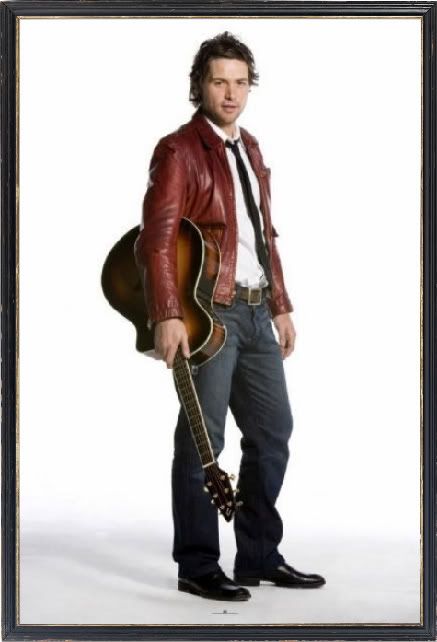 If you're an American Idol fan, you already know Michael Johns is the sexy Aussie whose unexpected elimination caused an uproar to sweep the nation in America Idol's Season 7, which aired in 2007-2008.
The
American Idol Tour 2008
ended on September 13th, 2008, but for Michael Johns, the end of the tour only marked a new beginning to his musical career. The following is an in-depth look at the man, his past, his present, and his undeniable future.
For those of you who don't watch the "reality" show, I've included a picture and a description. What you can't really appreciate in the photo on a computer screen, are the proportions at which you're looking. Athletically speaking, he's a prime specimen of manliness. His 6' 2" in height and muscular build give him a physical advantage in sports. Add to that his extremely competitive nature, and you've got yourself one Hot Aussie sportsman.
His musical journey in America began in 1998. That's when he left Australia and moved to Atlanta, Georgia where he lived for six years. He attended college at Abraham Baldwin Agricultural College in Tifton, Georgia on a tennis scholarship.
While living in Atlanta, Michael joined a USAFL Australian football rules club, and was a team player with the Atlanta Kookaburras. He left college soon after arriving to pursue his musical career. For his fans, that's where his rise to fame begins. Here's what it took to become the Michael Johns as we all know him now.
Before he was introduced to the world on
American Idol
with the stage name Michael Johns, he was best known by his given name, which is Michael Lee. He performed with Jeff Bramwell and Hank Barbee while living in Atlanta. Michael Lee is also the name that he used as lead singer on the EP released while with the band
Film
.
In 2001, Michael traveled to Los Angeles to showcase music for a number of labels, and was signed with Maverick Records. It was there he found band members Robb Torres and Kevin Haaland (guitarists), Ari Gorman (bass), and Kirke Blankenship (drums), to form the rock band
The Rising
.
The Rising's
story is best described in the following interview with Michael, as published by:
The Rising's Michael Lee came to the US with a dream
By: Will Jordan,

While getting signed to Maverick Records was a major step for Atlanta-based rock group The Rising, the band realizes it's only the beginning. That's why the quintet is taking their music on the road, playing smaller venues and trying diligently to build a fan base.

We're playing nearly every night, said frontman Michael Lee with traces of his native Australian accent still dangling. The singer admitted touring hasn't always been an enjoyable experience. At a lot of places, people still don't know who we are, he said. We're such a new band sometimes it's unpredictable.

Lee has been singing in bands since he was very young, and was looking for a way to take it to the next level when he was given the answer by You Am I singer Tim Rogers, who was performing in 1997 at the Australian music festival Big Day Out.

I'd always been a big fan of You Am I, so when they finished their set, I snuck backstage and approached lead singer Tim Rogers for advice, Lee said. He told me if I wanted to make something happen, I had to go to the States.

The young singer packed his bags and headed for Atlanta instead of Los Angles or New York because he felt his chances were better in a smaller setting. Within a month, he met a fellow Aussie and club owner who gave him a job washing dishes and cleaning toilets and eventually allowed the fledgling vocalist to sit in occasionally with local bands. Eventually Lee met a guitarist and became the club's headlining cover band.

The next few years, Lee spent days writing and honing original songs and nights performing covers. Recording a demo in 2001, Lee went to Los Angeles where he showcased for several labels, eventually inking an exclusive pact with Maverick Records.

He then began assembling the elements of his new band, picking and choosing from the talent the LA music scene had to offer, including drummer Kirke Blankenship, guitarists Robb Torres and Kevin Haaland and bassist Ari Gorman.

The newly forged The Rising realized they had an electrifying creative energy about them when they played their songs in front of an audience. With today's technology, anyone can record an album, but not everyone can pull it off live, Lee said. We elevate it to the next level when we play live.

The singer admitted he wishes he could get into the studio and rerecord, but for now The Rising is currently touring for their debut release, Future Unknown, produced by Rick Beato and Lee, and recorded at Southern Tracks in Atlanta.

All my life I dreamed of making an album like this with a band like this, Lee said. We want to be a source of inspiration, a reason to believe, a way of seeing the world. Maybe that's a lot to ask from a bunch of simple songs, but music has made a difference in all our lives. This is our way of passing it along.
What the interview doesn't say about The Rising, is the success they should now be enjoying. His first real shot at fame was while fronting as lead singer for newly formed group
The Rising
. They wrote and recorded their debut album
Future Unknown
and perfected the level of performance excellence they demanded of themselves before taking their tour nationwide.
The band was well on its way to the stardom all of them should now be enjoying. They performed on
The Rock Boat
, and were featured on
The Sharon Osbourne Show
, a nationally syndicated television program. Ozzy's wife is well known for having good taste, and can judge exceptional talent when she sees it.
In 2003, the group performed an outstanding acoustical set at the opening of a Los Angeles Apple Store. Thankfully, that event was recorded and has been released for download as
The Rising - Live At The Apple Store EP
. Clicking on the link above will take you directly to the EP, which can be heard on Amazon.com.
Taking their music on the road, members of The Rising were determined to put everything that they had into their live performances. It wasn't enough to just play for the fans, they wanted the audience to experience the emotion that went into writing the songs.
Groups of this caliber and uncompromising standards are rarely found any more. Legendary bands whose music survives even now and spans decades, practiced that same dedication to excellence when they performed. Inexplicably, these musicians somehow knew what it took to connect with their audience.
Though The Rising as a band is no longer together, we are left with their stellar performances. It seems I'm not the only writer to accuse this singer and fellow musicians of evoking in us, emotions unbidden. While researching former band members for this piece, I ran across yet another writer who noticed Michael's gift of expressing the feeling that went into the artists rendition of the music.
In a blog posted at former Rising guitartist
Kevin Haaland's
music website, I found the following excerpt from an article by Sona Sood.
Live Review - The Rising @ The Roxy

The Rising- Live Review- Category: Music

The band took the stage with sophistication and proved they could win over a Los Angeles crowd. The lyrics are heart felt and moving as the emotions can be heard seeping out in every note Michael sings. Down to the blood that was on Kevin's fingers after the set, this band truly believes in the power of music and it comes across in their performances. Michael Lee once said he wants to create the kind of music "that puts you in a trance". This band indeed creates timeless music which will carry you away into a different world.
- excerpt from a www.riftrock.com article by Sona Sood.
You would think with the rave reviews like the one above, just landing a "Major" label contract with Maverick Records and playing brilliantly should assure the band's successful future. Most people believe that's all it takes to succeed in the music world. Just get yourself a major label record deal and play extraordinarily well in front of your audience. The equation sounds simple enough. Massive talent + Major label = Superstardom.
The Rising
recorded at least thirty five songs while with this "Major" label. Eleven of those magnificent tunes ended up on its debut album -
Future Unknown
. Michael Johns and Rick Beato co-produced the debut CD
The Rising- Future Unknown
.
This album enjoys five star reviews at such sites as Amazon.com and iTunes, and it's some of the best down to earth rock music that I've ever heard. A number of songs from the album got national radio play while the band toured.
The "Major" label that was originally supposed to release the CD on September 16, 2003, withheld release of the album until Michael Johns became well known as a finalist on
American Idol
. That's when the label decided to put the CD on iTunes and cash in on Michael Johns' success.
Thankfully, Michael Johns' story doesn't end here. The live EP and full length CD can be heard by clicking on the named releases listed above. Videos of the band performing at the opening of the Apple Store are posted
HERE
. for your viewing pleasure.
At his wife Stacey's suggestion, Michael auditioned for American Idol in San Diego in 2007 and earned a spot on the show. He sailed through the competition in Hollywood and was named one of the Top 12 Finalists. In one of the most shocking eliminations ever to take place on the show, Michael finished in eighth place after never having been in the bottom three votes. That surprise elimination had all the fans quickly to arms, questioning the shows credibility, and earning Michael Johns instant celebrity status.
The next part of Michael Johns journey was encompassed in an introduction I wrote for a scrapbook given to Michael Johns from just one of his many fan sites. Here's what I wrote for them.
The American Idol Tour – 2008

No one book can fully contain the memories you'll take with you from the summer tour of 2008. It was most splendidly spent touring the nation with your friends from American Idol - Season 7. All of the Top Ten are Idols where the fans are concerned, so the following list is in no particular order. That close-knit bunch of friends who were along for your journey included, David Cook, Carly Smithson, Jason Castro, Brooke White, Chikezie, David Archuleta, Kristy Lee Cook, Ramiele Malubay, and Syesha Mercado.
These were the winners from over 100,000 people who auditioned for the show. America chose who earned the right to tour and take center stage along with you. The tour began July 1st in Glendale, AZ, and offered 53 performances in over 40 cities spanning America, and parts of Canada before ending on September 13th in Tulsa, OK. Shows were sold out as 10,000-15,000 fans flocked to the venues in droves to see their American Idols each night. Those are the stats, now let's get to the facts.

Virtually every review listed you as the star that you are. Page after page expounded your unequaled level of "arena" ready performances. With a set that included Queen's "We Will Rock You/We Are The Champions", your soulful rendition of Dolly Parton's, "It's All Wrong, But It's Alright", and your stunning Aerosmith's "Dream On", tour reviews soon were claiming you took the limelight. It was clear to us all along, even before the tour shone its light on you with the special introduction in U2's "Pride".
A rumor started by one fan said the other Idols wanted you arrested for stealing the show each night. Your constant antics have filled your fans with mischief as well. Meet and greet gifts of coconut bras, and Superman capes, and Ninja poses, just to mention a few.

Most of us couldn't wait each night; just to hear what prank you'd pulled on your friends. Whoopee cushions in dressing rooms, constant bantering back and forth. Silly string fights, hula-hoops, pompoms, and umbrellas, were just a few of the props for dance offs between you and David Cook, your partner in crime, and the infamous Mavid.
What an uproar it caused with the fans when they tried to take it away. Mavid rapidly became one of the highlights and most anticipated parts of the show. Sold out arenas demanded that their stars be allowed to have as much fun as we had, while watching you frolic on stage.

So many times, you expressed your gratitude in being able to share this once in a lifetime opportunity. Your appreciation showed as you accepted the gifts specially made with loving hands just for you. Playing to stadiums full of squealing fans, you stayed humble throughout the tour.
During interviews you said, "Playing 10,000 plus arena's is something reserved for the U2's and Madonna's of the world." Every chance you had, you took your love for your fans outside to the ones who were there to see you. Adoring faces awaited your arrival, for just a picture, or an autograph, and in some cases, just a glimpse of their Idol. You gave as much of yourself as you had.

While we could never hope to capture each memory that you have of this tour, pieces of what you've accomplished this summer are here for you to remember. From all of your adoring fans, we thank you for sharing your journey while you were on tour. The following pages are filled with only a few of the memories you've given to us.
Think we've gotten to the end yet? As previously mentioned, this is just the beginning. Michael's already had several releases since leaving American Idol behind. I'll be back to fill in the rest of the news and will include from September 2008 until now. Stay tuned for his debut single announcement and the album release date. You'll know those as soon as I do.