It's not often that an "Idol" like Michael Johns asks his fans to help out, so when he did, I was more than willing to offer whatever I can to help spread the word to all of his fans.
Michael sent out a bulletin and a blog
today, both requesting the same thing. Here's what he had to say:
Hey everyone,

Clear Channel has chosen me as one of their "Artists to Watch" but I still need your help. I would love it if you could spread the word about the promotion and request "Heart on My Sleeve" through their ON DEMAND service located at the top of the page.

Check out the page I'm featured on RIGHT HERE.

We're trying to get the single all over radio so this would be HUGE!

Thanks so much and see you on tour!

MJ
Now being the faithful little Michael Johns fan that I am, I clicked on the
"RIGHT HERE"
portion of his blog and bulletin to follow through with his request. It did indeed take me to the Adult section of the
iheartradio.com
site. When I got there, I noticed that Michael was on that page, but under their
"Recommended"
artist section instead of "Artists to Watch". He's the nice looking fellow on the far right, bottom row.
The picture above will take you to the iheartradio.com's Adult page.
I also went to the On Demand section just as he asked, but couldn't find how to request an artist or a song. I was able to find his music by entering the On Demand section, then finding a Search button on the very far right of the iheart radio player, I entered his name and then clicked on select. I got to "Heart On My Sleeve" from his new album
Hold Back My Heart
easily enough, but I don't know if that constitutes making a request, so I fired off an email to the site. I asked them flat out how to make a request on their website (and requested the song via email too). They're supposed to answer within 12 hours, so I'll let you know how that goes.
If you click on the picture below, it'll take you directly to his page, which looks something like this.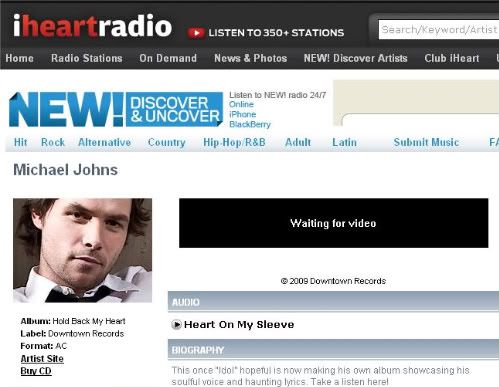 One of Michael's fans also suggested that those who have Twitter accounts can make their requests by tweeting
@iheartradio
and
@NEWArtists
-
Please play Michael Johns - "Heart On My Sleeve"
. No worries my Twitter friends, I'll do it from a Twitter account no one knows about instead of bombarding you like I did on the AOL "All Twitter Request" radio station. :P