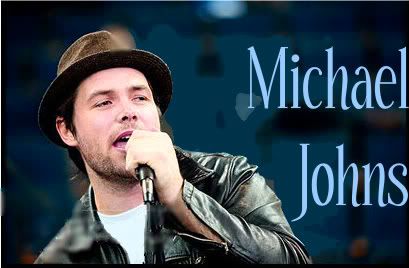 Michael Johns was featured today in an interview done with Amber James of
Pop Eater
. It's good to know that the radio promotion tour for his single
'Heart On My Sleeve'
will begin in July.
He answers just a few questions and gives his take on this seasons
American Idol
. (It's been rumored that he'll be in the audience on
AI Finale
night).
Not found in the article, but news nonetheless, Michael announced via his Twitter, that he'll be playing at the KIIS FM Idol party being held to celebrate the end of American Idol Season 8. Other than those few things, there's not much new information here. Those of you who follow music news already know his debut album
Hold Back My Heart
(set for June 23rd release) is available for
pre-order on Amazon.com
. The single can be downloaded now at
iTunes
or
Amazon.com
.
Michael Johns Proves 'Idol' Voters Wrong, Returns With New Rock Album
When 'American Idol' contestant Michael Johns was kicked off last season, his departure caused quite a stir. He was shockingly voted off the show, despite unanimous praise from all the judges after his performance of Aerosmith's 'Dream On.' Looking back, Johns admits to PopEater that getting kicked off "was actually a new beginning for me."

What was going through your head when you were kicked off 'Idol' last year?
"It was weird because I didn't know what to think until the next morning. It was unanimous across the board with people saying, 'You were robbed.' It made me feel really good. A lot of people were saying, 'You'll be fine. We can't wait to hear your record.' Seeing that, I was like, 'Wow, maybe I do have a chance after 'Idol.' "
What's the biggest misconception about the show?
"A lot of people think that once you're on the show, everything comes flooding in, and you can sit around waiting for your phone to ring for a record deal. But it doesn't happen like that. That is the pitfall of 'Idol.' You have to hustle. I was really lucky that I had a career before [the show], so all those doors were still open for me."
Who do you think will win this season?
"The show pulls for the underdog. If everyone watching thinks it is all over and Adam Lambert has won, they could be in for a rude awakening ... Look at last year's show. Everyone wanted David Archuleta to win, but David Cook came from behind and took it."
Tell us about your new album.
"The record is what I wish I could have done more of when I was on 'Idol.' It is very rock and soul influenced. I started working on the record back in May 2008 and finished it in December. I made the record before I even had a record deal. It was a little risky, but I knew what I wanted to make and decided I'd get a label later."
Tell us about your upcoming projects.
"Starting in July, I am doing a bunch of radio promotional tours. I have been getting booked a lot, especially now that the new record is finally coming out ... It's all happening and a really exciting time because people are recognizing me as a solo artist now."
How is your wife and family dealing with your success from the show?
"The family loves it, but they are all in Australia. It has been a tough year because I haven't been home that much. It has ups and downs ... When I eventually get to go home, I just want to veg and chill out. But I have to remember that there is another person who wants my time too."

Be on the lookout for Michael Johns as he prepares for the release of his new album on June 23 and starts a radio promo tour in July. His first single 'Heart On My Sleeve' is available on iTunes. For more information, check out http://www.myspace.com/michaeljohnsmusic.